[ THIS GIVEAWAY IS CLOSED ]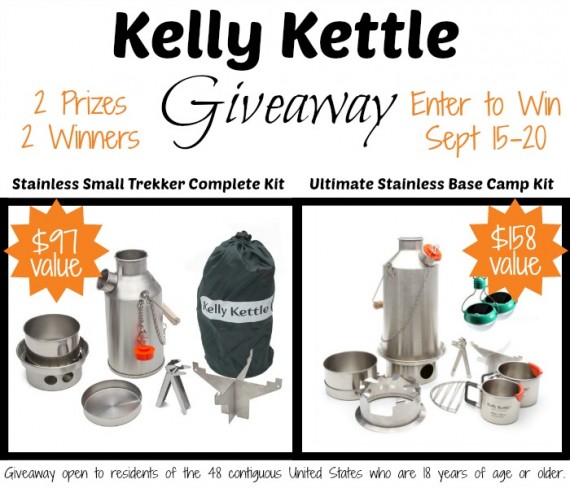 Who would love to win a Kelly Kettle in our group giveaway? Did you know that September is National Preparedness Month? A large group of my blogging colleagues is trying to show the world what is available to use in an unforeseen disaster or emergency. We are so thankful to Glen at KellyKettleUSA for sponsoring our giveaway today! If you are interested in seeing a post on how one of these Kelly Kettle kits work, we have you covered: KellyKettlePost. There is also a YouTube on the Kelly Kettle website that will show you the different sizes they have available. These rock because you do not have to store fuel. You can use dry leaves, twigs or pinecones. Basically you put a small piece of newspaper or scraps of tinder in the bottom and you light it with just a match or flint. You can add more pinecones, twigs and other natural fuel as needed to keep the fire going. Water boils in minutes. Gotta love it! In this Kelly Kettle giveaway we will have two winners. One will win the stove kit on the left, the second winner will win the stove kit on the right in the graphic shown above. Good luck everyone!
Group Involved In This Giveaway:
---
National Emergency Preparedness Month
This Kelly Kettle Giveaway is open to any resident who is 18 years of age or older who lives in one of the 48 US Contiguous States. This giveaway starts on Monday, Sept. 15th at 5:00 am (MDT) and ends on Saturday, Sept. 20th at 5:00 pm (MDT). The winner will be notified by email and will have 24 hours to respond. If we do not hear back from said winner in the designated time period of 24 hours we will choose another winner and they will have 24 hours to respond from the time the notification email is sent. Please check your SPAM email folders. Good luck to everyone! Let's be prepared for the unexpected!
[ THIS GIVEAWAY IS CLOSED ]