[ THIS GIVEAWAY IS CLOSED ]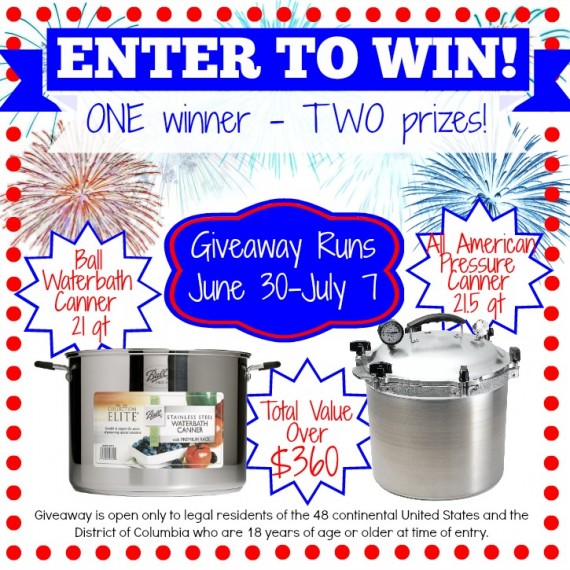 We as a group decided to have another All American Pressure Canner Giveaway but we wanted to add one more item this time! You guessed it, we want some lucky winner to have both an All-American Pressure Canner AND a Ball Water Bath Canner! Who wouldn't like to win both? So we put our money together to thank you our awesome readers for your loyalty to our blogs. We also want to introduce you to some new blogs, make some new friends and learn more about being self-reliant and so much more!
Here are my other blogging friends involved in this Home Canning and Preserving Giveaway:
Linda @ Food Storage Moms
Mary Ellen @ That's My Home
Jennifer @ Are We Crazy, Or What?
Janet @ Timber Creek Farm
Julie @ Home Ready Home
Annie @ Montana Homesteader
Angela @ Food Storage And Survival
Michael @ The BackYard Pioneer
Melissa Willis @ Ever Growing Farm
Tiffany Davis @ Imperfectly Happy
Donna @ Sharing Lifes Abundance
Pj @ Survival For Blondes
Laurie @ Common Sense Homesteading
Jane @ Mom With A Prep
Leah @ Fabulous Farm Gal
Debbie @ Kneaded Creations
Karen @ Lil' Suburban Homestead
Melissa @ Melissa K. Norris
This giveaway is open to all legal residents of the 48 continental United States and the District of Columbia who are 18 years of age and older at the time of entry. The giveaway starts June 30th, 2014 at 7:00 am (EDT) and ends on July 7th, 2014 at 7:00 pm (EDT). We will choose ONE winner at the end of the giveaway, and that person will be notified by email. The winner will have 48 hours to respond. If they do not respond we will choose another winner.
Good luck to everyone and here's to canning and preserving our own food!
[ THIS GIVEAWAY IS CLOSED ]