[ THIS GIVEAWAY IS CLOSED ]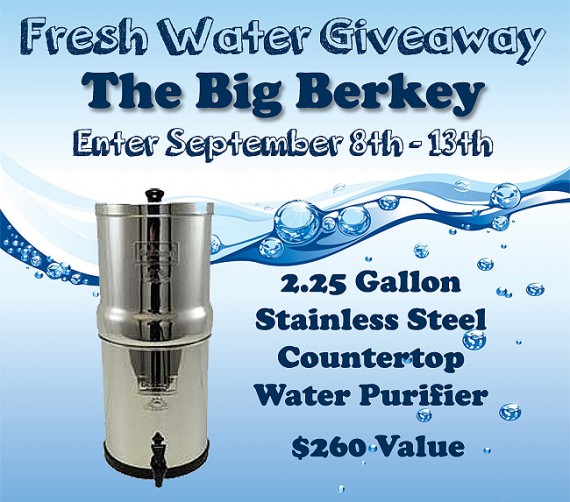 September is National Emergency Preparedness Month
My prepper friends and I were really concerned when the city of Toledo, Ohio was not able to use their water for quite some time. They could not even boil it to make it safe because of the toxic nature of the water.
From Wikipedia:
In August 2014, two samples from a water treatment plant toxin test showed signs of microcystis. Roughly 400,000, including residents of Toledo and several surrounding communities in Ohio and Michigan were affected by the water contamination. Residents were told not to use, drink, cook with, or boil any tap water on the evening of August 1, 2014. The Ohio National Guard delivered water and food to residents living in contaminated areas. As of 3 August 2014, nobody had reported being sick and the governor had declared a state of emergency in three counties. The ban was lifted on August 4.
This is one more reason we need to tell the world about National Emergency Preparedness Month. It's enough to make me wish every family in the world could have some type of system to purify their water!
This is a sponsored giveaway by CampingSurvival.com (be sure to check out their website). We are extremely grateful that Tom at Camping Survival believes in the Big Berkey Water Purifier system as much as we do, and for showing the world what is needed to purify our water everyday, or in an unforeseen disaster.
Enter this giveaway and you will have a chance to win one of these Big Berkey Water Purifiers! Good luck to everyone, and please visit the other bloggers listed below.
Here are my blogging friends who are also involved in this giveaway:
About the Big Berkey:
Great For 1-4 People
Storage Capacity: 2.1 Gallons (8.5 Liters)
Height: 21″
Diameter: 8.5″
Portability: The upper chamber nests within the lower chamber for transport and stands only 13″ in height
Weight: 9 lbs (2 BB Elements)
Max Filters: 4 Black Berkeys (upper) + 4 PF-2's (lower)
[ THIS GIVEAWAY IS CLOSED ]